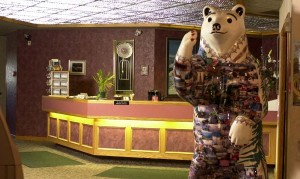 The Northern Motor Inn is known locally and regionally for it's cozy, friendly, country atmosphere and affordable, quality service .
The natural wild beauty of our area is minutes away and easy to access. This is reflected with photos and wood carvings of bears, a favorite with Gail Munson – from the restaurant's "All Spruced Up", the BC Lions "Kermode Spirit Bears In The City" sculpture designed by daughter Jacquie Munson, to various small sculptures throughout the hotel and Thornhill Pub.
On-site for our guests' convenience, are two family-friendly, fully-licensed dining areas with an outdoor patio.
George's Pub, our sports bar, features live music in the pub, and unique pieces of sports memorabilia and art scattered throughout including John Weber's Expo 86 wall-size wood carvings depicting scenes from BC's forest industry.
Georges Pub offers live music on the weekends, featuring local favorites "Coldwater", "The Accelerators", "Rumor Red" as well as performers from across Canada. Our Facebook page contains our entertainment calendar.